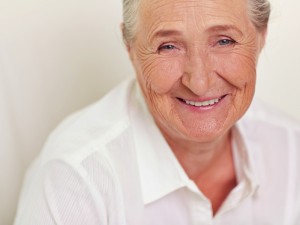 This month our blog will be discussing some things that you should know if you have dentures or if dentures are in your near future.
Dentures can be a boost your own personal confidence and help improve your appearance. They can also make your face look fuller, and can help you look younger. That said, missing teeth can impact your speech, ability to chew food, and feel confident. So it is safe to say, that dentures can improve your life in a variety of ways.
If you are new to dentures, consider these 5 tips to make your life a little easier:
1. Maintain a healthy and well-balanced diet: Staying healthy is good for your both your oral and physical health.
2. Avoid foods that are crunchy or hard to eat: Especially, in the beginning, avoiding some of the more difficult foods to eat is a good idea.
3. Still take the time to clean your gums and brush your dentures: Just because you don't have teeth anymore, your gums are an important part of oral health. It is also important to take care of your dentures to ensure they stay in tip-top shape.
4. Eliminate bacteria and plaque: Just because you don't have teeth, doesn't mean that you can't have bacteria and plaque buildup.
5. Remember to soak your dentures to keep them clean: Soaking your dentures while you aren't wearing them is an important part to both denture and oral hygiene. It ensures that your dentures will last you a long time!
For more suggestions for your new dentures in Portland OR, refer to our next blog post or contact the Classic Denture Center today!