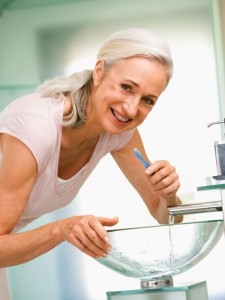 Did you know that overnight soaking can kill 99.9 percent of denture germs? This simple act plays a big part in your oral health and it doesn't take any of those expensive denture cleaning options.
From all-natural soaking solutions to high-end ultrasonic devices, it is easy for denture wearers to disregard less expensive cleaning options for quicker and more expensive choices.
That said, your denturist in Portland, OR wants you to be aware that fast and costly is not always better.
If you wear dentures, it is also very important for you to remember that along with good hygiene, your annual full denture checkups are essential to keeping your mouth healthy.
Over the years, your mouth changes, making it necessary to continually check to ensure that everything is still fitting comfortably.
Keep in mind that when you play your part and participate with regular monitoring, your oral health can be maintained.
If you suffer from denture sore spots or unstable dentures, contact us at Classic Denture Center today! We want you to love your smile and feel comfortable doing it!
Click here to read about all of the services we offer!