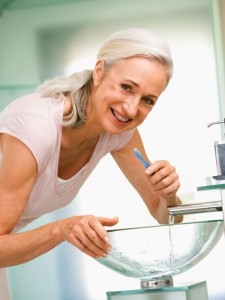 In our last blog post, we discussed how gum disease and gum recession can lead to issues with the comfort and fit of your dentures in Portland OR.
When it comes to removable dentures, the loss of gum tissue or other serious problems with the health of the gum tissue means that dentures could come loose or feel uncomfortable.
When a patient has dentures fixed in place with dental implants, gum recession and gum disease can cause implants to be less stable, possibly resulting in implant failure and serious damage to the jawbone.
Here are a few tips for maintaining good periodontal health:
Brush your teeth regularly, at least twice a day
Floss your teeth regularly, at least once a day
Do not use tobacco products
Clean and soak your denture/bridge as instructed
Visit your dentist for regular checkups and maintenance
For more information about your dentures in Portland OR, contact our office today! Our denturist Tonya Poleon her entire team are looking forward to your visit and discussing your dental health and wellness.